Schools Week
Sign up now for That JORVIK Viking Thing: Schools Week 2023
Schools Week 2023 runs from Monday 6th to Friday 10th February 2022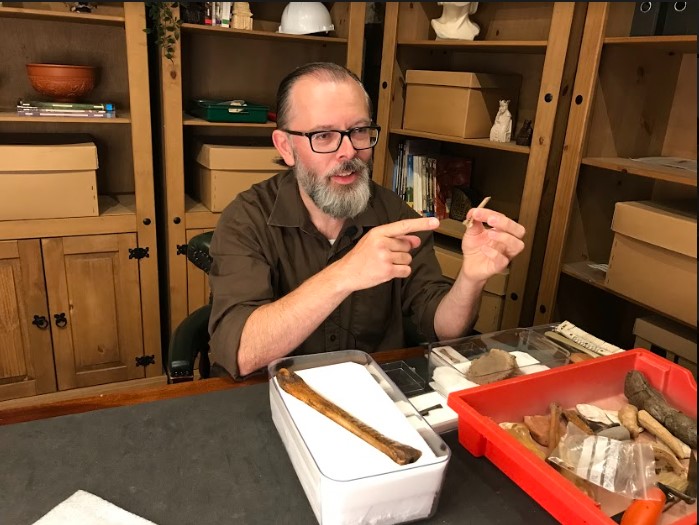 SIGN UP NOW!
Ahead of the half-term arrival of our annual JORVIK Viking Festival and its digital counterpart, That JORVIK Viking Thing, your students can get involved with a week of FREE, exclusive livestreams and digital learning resources.
This year's Schools Week takes place 6th-10th February 2023 and has the theme 'Jorvik Unearthed'!
Join our friendly hosts every day at 2pm to explore some of the remarkable archaeological evidence from the Viking Age in York. Learn about a range of different Viking artefacts each day from York Archaeological Trust's fantastic collections, and use this evidence to challenge and support your ideas about Viking raiders and settlers of the 10th century. Then, keep the learning going with our exclusive JORVIK Unearthed: Schools Week Handbook, full of activities to continue exploring Viking-Age Jorvik!
Sign up to Schools Week, and hear about future updates from The JORVIK Group Learning team, here:
Home Educators: We welcome Home Educators to sign-up and take part in Schools Week! Please write 'Home Educator' in the field requesting 'School Name' below. 
That JORVIK Viking Thing: Schools Week has been designed with Key Stage 2 and 3 learners (ages 7-14) in mind and can be enjoyed from home or from school. If our dates don't suit you or you live in a time zone where the livestreaming is inconvenient, all of the livestreams will be available to watch on-demand immediately after the session. All content will remain available until Monday 27th February.
You must sign-up for access to Schools Week, when we will share with you how to access the content during the week. The week's content will go live online on Thursday 2nd February, so you have time to review it. Only those who have signed up will be sent the link to access this content!
If you have any queries, please email us at schoolsthing@yorkat.co.uk